Similar to yesterday's zoo, today I saw caged animals being ogled at and photographed. Replacing cages with tennis courts, and animals with gorgeous female tennis players, it turned out to be the Sydney Open at Homebush Olympic Park. I've been to a tennis tournament before, but they were for men; and half the crowd then is now suspended for doping ... talk about drat rotten luck.
Anyway, the moment I step inside, I see Ana Ivanovic practicing to my left. I quickly change lenses, a zoom here and there, and voila. I had something to keep myself busy for the next 30 minutes.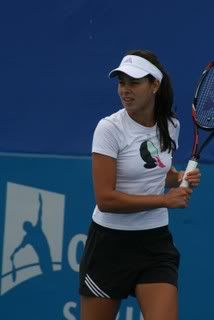 Today was worse than yesterday's experience at the zoo. I'm wearing my jacket full-on, even though it's shining outside. Note to self, remember the song that goes: Wear Sunscreen. If I could offer you one piece of advise....I digress.
Luckily, it's the first day of the tournament, and there were plenty of seats in the shade. So I find a really comfy seat, but not before taking this photograph. Daniela! Woot, she (eventually) finally made it to a Grand Slam semifinal.
There was one match left, but I figured that it would take forever to finish it, and there was much to pack. So I took a quick night shot of their lovely tennis stadium and called it a day. Just in case you're wondering who these players were, it's Igor Andreev and Richard Gasquet.