Whoops, my days seem to be fully loaded with activities that I forgot to mention that yesterday was my last day in Siddies. Early in the morning, I need to head off to Queensland's capital city, Brisbane. I initially wanted to go, but decided against it to spend more time in Sydney, then changed my mind again (fickle, I know) in order to meet more CouchSurfers and spread the good word about the Philippines. At least it sounded like a mission.
Upon arrival in Brisbane, I was definitely grateful that I made the right choice. The weather felt like Tagaytay, a bit less humid, but you can definitely feel the tropicality of the region. Getting to the city was a breeze, as there is a dedicated rail line from the airport to Central Station (I just love DIY airport transfers). Their transport system is being upgraded right now, to handle Airbus 380s, more international arrivals, larger vehicular traffic, and extensions of the existing rail lines.
You can definitely tell that Brisbane is a city on the rise. Whilst their CBD features old colonial style buildings similar to Sydney, a majority of the buildings are new, and construction is prevalent. My favorite? Brisbane Square, which houses the gigantic metal soccer balls, the city library (whose Tagalog section has nothing but romance novellas with titles such as Hindi Mo Sarili Ang Kasalanan and May Utang Kang Pag Ibig), all built on top of a motorway underpass. Check out the slanted window slivers on the library wall.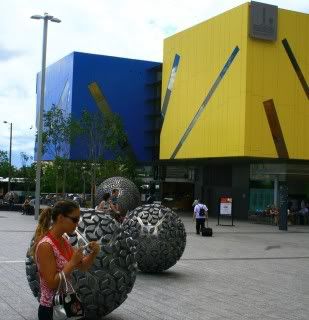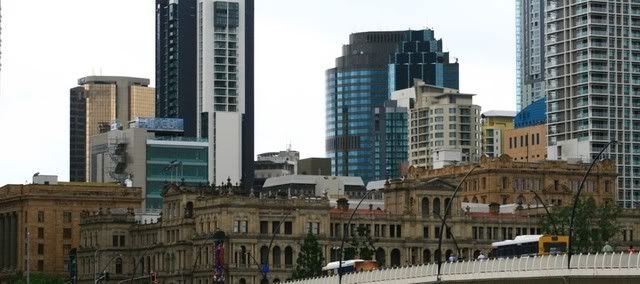 There was enough sights to see, their city hall boasts that Savage Garden has the keys to the city, Saint Stephen's Cathedral was a good place to take pictures around (apparently, I enjoyed it a bit too much), and a concise shopping district. I totally regret not shopping in Brisbane - Australia may seem a bit disorienting to the regular Pinoy mall shopper, but the Brisbane Queen Street Mall will quickly get you back on your feet.
Man, it's a pretty long post already, and it's just the morning I got to Brisbane, or as they would call it, Brisvegas. I guess it just shows how much I loved it there. More next time.