I remember a ritual involving writing predictions for every tennis Grand Slam. But my, 2010 is shaping to be quite a busy year, and we're just in the first 20 days of it. Missed out on the prediction from the get go, but here's what I got right: breakthroughs for Vika, Marin and Jie; and what I did not get right: Kim's demolition, and Sharapova's flameout. Plus, Dementieva's spirited loss against Henin. It's shaping to be an excellent tourney yet again in Australia, so let's get the predictions on.
Federer vs Davydenko
I've never rooted for Davydenko, and I would've cheered for him (tout him as a favorite, even). Tough part of the draw as he meets Federer as early as the QF; this could've been a final, IMO.
While Davydenko showed chinks in his armor, Federer upped his game against Hewitt. Sure does pay to know each other's game very well. Same fate lies for Davydenko, but expect a fight. Four sets for Federer.
Djokovic vs Tsonga
Has anyone noticed that no one has noticed Djokovic? He's one of 3 ex-champs here in Melbourne, but all eyes have been on the comeback ladies and the question marks on Nadal (fitness) and Murray (when is that slam coming?). Nole takes on a rematch of his 2008 win against Tsonga, who looked demoralised fending off streaky Almagro in the previous round. A tired Tsonga will bounce his way out of the tournament thanks to a fine straight set win from Djokovic.
Roddick vs Cilic
If I'm going to call an upset, this would be it. While the tall lanky Croat stringed a mature win over US Open champ JMDP, Marin's method was still shaky and unconvincing at some points. Roddick's style has gone from one-sided to consistently explosive, and using maturity now as an added weapon.
Both players won their warmup tourneys in Brissy and Chennai, and someone will end his streak here. I call Marin to step up tp the plate, and defeat Roddick by out-acing and out-pacing him. Roddick, now faster than ever will catch up with some of them, but expect those backhand returns to be dealt with pain. Another 5 setter in the works.
Murray vs Nadal
This round's marquee match. A blazing Nadal will square off a bulked-up (yet again) Murray. Will Murray choke (Hopman Cup anyone), or have a repeat of his run to the final? Speed-wise, it's a pretty even match, but for power, the advantage belongs to the Spaniard. I would like to vote Nadal here in 4, but why do I get this sinking feeling that this'll end in straight sets for Andy?
Semis and Final
Federer. Djokovic. Grand Slam semifinal. Didn't we see this before? Yawn. Murray-Cilic? Well that's new. And so is this: Novak will make the finals, and so will Murray. Only because I've been waiting for this matchup for quite a while now. Maiden slam for Murray? Nah, Australia's not really his strongest suit.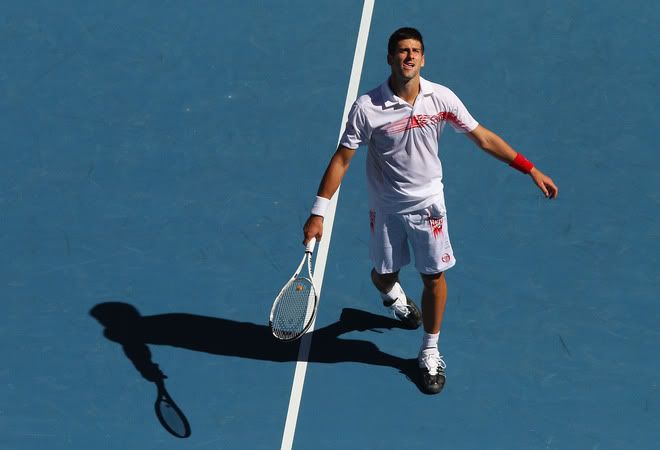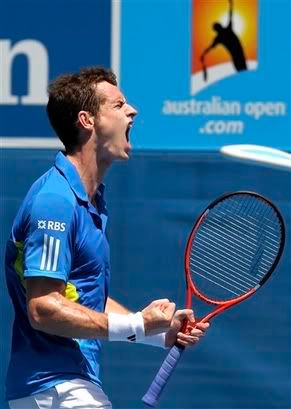 ----------------------
Serena vs Vika
This should be an explosive match. Serena is playing untouchable tennis, serving impeccably and demolishingly precise. Vika is a true firecracker, clawing her way out of a big hole to make it to the quarters.
We'll see a lot of rallies here, and a side to side wiping of both players. If Azarenka can manage to get past the Serena serve, she'll have a chance (like she did last year, before retiring due to food poisoning). However, from Serena form of late, everyone is just scrambling for that runner-up plate. I say straight sets. If Vika gets past Serena, then it's Azarenka FTW.
Na vs Venus
Venus could've tumbled earlier, but she didn't. Must be the wisdom of maturity that's anchoring her fantastic run in Oz. She never tends to do well here, but I'll give her a shot at the all-Williams clash by getting past China's Na in 3 tight sets.
Justine vs Nadia
With so many people to choose from this quarter, did we really end up with this match up? Drat, should've put my money on Justine instead of Elena for my FL picks.
I'd love to see Nadia breakthrough here. Anyone who humiliates the the last GS winner by surrendering only 1 game, deserves some praise. Nadia also took our reigning RG winner Sveta in the previous round. I want to see how that hot streak fares against this Grand Slam episode's comeback queen Justine. I'll vote on the Nadia train for 2 sets; if goes to a third expect Henin to squeak out of that.
Jie vs Maria
Wow, who would've thought it. China represent! No ide where this one will go, but I'm hoping that Jie makes a second SF appearance in a Grandslam. Besides, it's the slam of the Asia-Pacific; nice to see two Chinese players out there.
Semis and Final
Serena. There's no denying that she's head and shoulders above the pile, and enjoying it. And oh, welcome back Justine. I smell a rivalry revived.