Officially, my most disastrous prediction I've made since I started. 3/8 for the ladies, and 2/8 for the men. Tough. Let's see if I can jinx them all.
Women's Draw
Lindsay vs Mary
- An instant flashback to the pre-Y2K matchups, it's nice to see both players fight through the young competition and wind their way to the finals. Mary is a lot fitter, running balls all over the court, while Lindsay has found the belief that she might actually complete her collection. I call Lindsay, in (surprise, surprise) 3 sets again.
Elena vs Sesil
- I did get the Elena part, but the last name wrong. Crafty doubles specialist Elena is up against new rising star (determined to kick Maria's butt, or so she says) Sesil K-something. I'll spell out her complete last name if she makes it to the semis. Which I think she will - 2 tight sets.
Nadia vs Ana
- Nadia was in Ana's shoes 2 years ago when she landed a surprise QF slot. Except for the fact thet Ana beat Nadia in their last meeting over at Miami. Still, it's experience here - Nadia in 2 sets.
Justine vs Maria
- Probably the most anticipated quarterfinal match in any department. Justine, armed with her formidable backhand and a strong mental resolve to win, is up against another mentally tough, clay rookie named Maria. So, how does Justine solve a problem called Maria? Long rallies will invite the errors from the Wimbledon champ, but at the same time, it will be draining for the Henin who played for more than 3 hours last night. I smell an "upset" - Maria in 3 long sets.
Final results: This might actually go to the seedings. Lindsay will complete her career grandslam, while Maria, will come up a little short.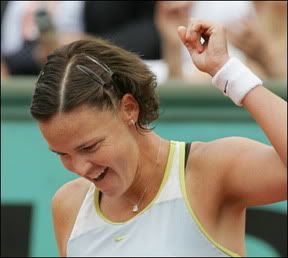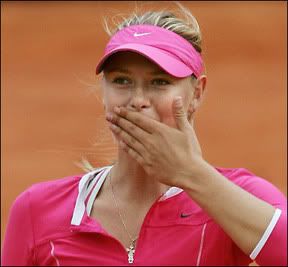 Men's Draw
Federer vs Hanescu
- This is where it gets tricky for the tournament favorite. I bet that Federer doesn't know squat with this young Romanian. With that taken into account, the young Hanescu might scratch the Swiss record and take away a set from him. Federer in 4.
Nadal vs Ferrer
- Outlasting the defending champion in the previous round should be enough for David Ferrer. Nadal in straight sets.
Davydenko vs Robredo
- Winner of this QF match should get enough momentum to make it to the finals. My prediction says that Robredo will defeat another Russian to make it to the next round in 5 sets.
Canas vs Puerta
- An all-Argentinian affair will be determined by experience. Canas in 3 sets.
Final results: All-Spanish affair, still. Nadal, debuts as a Grand Slam champion, ending a dream clay season, while Robredo looks by.