I want to go to Shanghai to watch the year-end Tennis Masters Cup. As costs for accommodation would be taxing, I will be splitting it with a friend. Airfare should not be much of a problem - it's time to cash in all those Mabuhay Miles (hence that link at my blog).
What's stopping me then? First, there is still a cost involved here; there's no such this as a free lunch. The series tickets will take up most of my budget, that 266 USD, plus plane fares from my city of origin (not Manila) and back. There's travel tax, fuel surcharge, terminal fees. Not to mention my expenditures in Shanghai - taxi fares, meals, and other incidentals. On top of that, I have to buy souvenirs!
There is also the guilt factor. Should I be spending this much money on myself? Although I did earn it, saved up for it, bottom line is I feel guilty.
Last, my college scholarship forbids me to leave the country. Rephrase that - I must leave a cash bond to leave the country and claim it upon my return. Am I willing to undergo crappy redtape just to be gone for a week?
Mida, if you're reading this. Don't worry. I will be applying for my visa in a few days, and will be stacking up on my Mandarin classes. Better ask my sister to buy that Lonely Planet Guide to Shanghai pretty soon.
It might sound I'm already raring to go, but I just kind of feel guilty. To ease my guilt, here's a picture of the stadium where the top 8 players of the men's tour will be playing. Federer! Nadal! Roddick! Safin! Hewitt! That's just five of the eight, but it looks like a pretty strong field. If it was the year-end WTA Championships, I would go in the snap of a finger.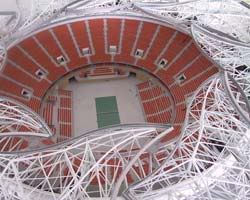 Hey, I read that the WTA Championships are moving from Los Angeles to Asia next year. I'm crossing my fingers it's going to be Beijing. Sign me up for that one right now.