*also known as Ivy's In The Clear album review
The travel bug bit me (together with the karma police), so to ease my pain, I maximised my business trips and did a Lonely Planet trekking and just knocked myself out.
First pit stop was the lovely island of Palawan. It's my first time here, and I must say, Puerto Princesa is a fantastic city - the streets were immaculately clean, and should the mayor catch you littering, he would immediately alight from his vehicle and slap you himself.
A perfect match to the flight to Palawan (or soundtrack to boat rides) would be Ivy's 2005 release, In The Clear. They may not be mainstream, but they've been quite around sometime (check out their 1999 single Edge Of The Ocean, performed in the TV series Roswell). They can be pegged as a DSound prototype, sans the smoky-jazzy sound, replaced with an airy, citrus-y feel.
The hazy clouds dancing around velveteen mountains, is a dreamy visual, and the song Thinking About You enhances that. There is a certain sense from flight coming from the album, whether its a drifting sensation, or just the mere phrasing of the songs. Other songs that provide this undulating vibe include Nothing But The Sky, Ocean City Girl, and Feel So Free.
Lest I forget that this was meant primarily to be a travelogue, I'll just end with In The Clear is one of the best finds I've found this year. Ivy definitely outshines the other "not-so-known" artists I've adopted for my collection. Like a lemon-infused air mist, this CD will definitely refresh your ears in a surprising way.
To listen more on
In The Clear
, check out my new
Multiply
site. I've uploaded the mp3s there.
-------------
Sorry, I got carried away.
I didn't have much time to do all the Palawan-y things to do, so I was asked to choose: Will it be the nature-lover's Underground River, or the beachcomber's special, hopping islands at Honda Bay. Since I was advised that the quintessential Palawan experience would be the former, I decided to go spelunking instead. Besides, I left my sun block at home.
The road to Sabang was hideous, and Mr. Minnesota riding with me in the tour van couldn't stop himself from getting carsick and eventually hurling. After two and a half hours of traveling, we winded down the port of Sabang and took a boat to the Subterranean River National Park fifteen minutes away. The view of limestones were just amazing, and the cliffs were not to be seen anywhere else in the country.
Inside the caves were mostly bat droppings, but the mineral formations were a geological wonder to behold. Stalactites and what-have-you formed figures that represented The Nativity, various fruits and vegetables, lions, snakes, even crispy-fried bacon. There were narrow passages, winding curves, and ceilings varying from 3m to 600 meters tall. Sadly, my brother's camera (which is much better than mine) couldn't share the precious pictures taken, so this picture of the cave entrance will have to suffice.
We had lunch at the national park, where park keepers warned us of monitor lizards and wily monkeys stealing away your food. They were not wrong. All I have here is me braving (if you call it that) a monitor lizard, conspicuously in front of its name tag. What you're not seeing here is me wrestling with a monkey for a fried chicken thigh. You will also not see me panting my lungs while going up the 2-hour jungle trail. My lower torso ached from the steep stairs – Mr Minnesota was worried that the wooden planks were made from sturdy teak, instead, I told him that it was actually antique. Suffice to say, he was not amused. Tsk!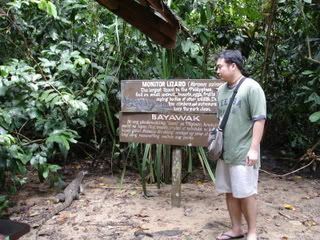 There was a mini city tour after Sabang, and it included a drop to the Vietnamese Village. It's really strange that the first house simply plays Viet music, but nothing else. Mostly everyone had migrated to the United States, and those that stayed were the ones denied a visa. Hmm.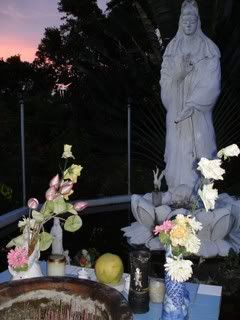 There, you have to forgive me, these blog entries of mine are reallllllly long. Perhaps next time, I'll provide a brief narrative.