Last March 8, I went on a free hugs day together with my friends from CouchSurfing. Despite the valiant efforts of Mall Of Asia's security to shoo us away from the bayside area, we still managed to spread the love. People of all ages, shapes, gender and even nationalities volunteered to be hugged, and well so did we. The smiles on their faces were truly genuine - it's this random kindness from strangers that lifts up your spirits, when you're facing the doldrums. Free Hugs is a campaign to hug people, after all, like the Beatles said, all you need is love.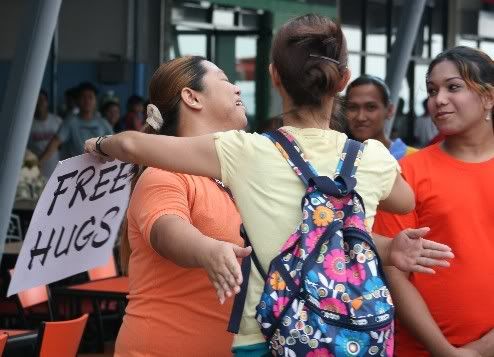 We came, we hugged and we spread the spirit. Now, can anybody suggest a nice place to spread the love next time around?
------------
Remember the Great Hard Drive Crash of December 2007? Not to be confused with the Crashes of January, July and August (that's how unreliable my laptop is), I had bought a backup hard drive, but it is only now I have gone to re-archive my CDs. I'm currently at 96% archived, with about some 30 more CDs to copy. I also have to recopy the audio files I burned into audio CDs back into mp3 (thank goodness I did that). I remember blogging about it some years ago (was it last year?), well, another Holy Week has arrived, and I'm doing the same thing.