Not once, but twice! So I decided to do a blog-tag where I will admit my weirdness (Way to go Sneexe and Lisa!).
1. I'm a music junkie. That's not weird, but I do have a database of all the music records I've purchased over the past years; organised alphabetically, sorted by Genre 1 (Rock, Pop, Soundtrack) and Genre 2 (Greatest Hits, Remix, Live). It also has a prerogative field Rating where (duh) I give them a score from 1 to 5. Only a select few get 5s. I'm somewhere around 220 original CDs.
If that's not weird enough, I have an annual music countdown. It started in 1995, peaking in 1997 and 1998 where I was able to
rank
100 songs. There's an entry about the Best Music of 2006 somewhere here, and I'm currently compiling the list for 2007. So far, I have 30 songs for the year.
2. I am a product of what I watch. Therefore, I'm a little John Dorian, part Jim Halpert, yet mostly Seth Cohen. Sarcasm! Irony! Wit!
Torpe
!
3. I'm an Amazing Race nerd. Sans The Family Edition of course. I think I spent one whole evening talking to my best friend about Seasons 1-10, plus All Stars. This included all the cast, order of elimination, places they visited, and all sorts of trivia. (We met again the following day to continue the conversation) My favorite season? The third one, won by Flo and Zach. I saw it 3 times a week (yes, that's the premiere and the two reruns) during its first run.
Must take a break from embarrassing myself........... there. Onwards!
4. My trademark photoshot wherever I go: I must place the camera on the floor, and take a vertical shot of me, and the landmark I'm at. My profile picture here serves as proof. More? Can you guess where I took them?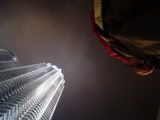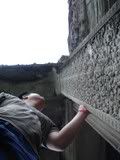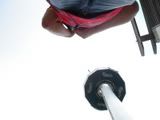 5. I talk to myself. Really, like a full-blown conversation. With accents. In the car. There's also some singing involved; and hand-/finger-waving like a rabid Mozart or a drugged Italian.
6. I think that's enough. Scared yet?
Oh yes. I would pass the torch to AM, to my sister Michelle, Mida, Benj and Tanya. I hope you have the time (and enough sanity, courage, blah blah) to write down your little quirks. Allez!