Justine vs Serena
Watch the drama unfold here! The winner here should be apt to take home the crown. Henin is definitely the favorite, yet no one should strike out Serena anywhere. Though Serena leads the H2H 6-3, Justine leads on clay, 3-1. Hope the crowd in Paris (and here as well) gets a treat, a thrilling 3 setter again, with drama, scandal, and hopefully, a pending three-peat for the queen of clay.
Jelena vs Nicole
Though Nicole has figured more here on clay as a semifinalist last year, and Melbourne earlier this 2007, I still would tip Jelena, the hardest working player on the WTA the advantage. Great spring results, and a steadier nerve would push the Serbian through in straight sets.
Ana vs Svetlana
Now this matchup would be my favorite of them all. It may not have the pedigree of previous champions, nor the nubility of the matchup above, but this is one square duel, with the Serb leading 2-1, the tiebreaker won last month in Berlin. I would cheer for Ana, it's about time that she figured in the important events. Three long sets.
Anna vs Maria
I'm honestly surprised how a limping Sharapova squeaked past a crafty Schnyder in the previous round - like I said, it hurts more to lose with tight score. Maria defeated Ana here in RG two years ago, but this seems like the opportune time for Anna to skip past Maria and make a SF debut. Straight sets for Anna.
Final
I'm really torn on who to pick for the final, but let's cross fingers - Justine claiming three straight trophies in Paris, with Ana (single N) having wisp of glory as runner-up.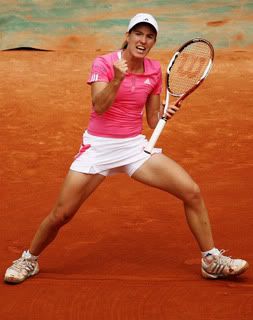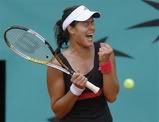 -----------------------------------
Federer vs Robredo
All this should only be an exercise. Federer, all the way to the finals! Sure hope that Robredo gives him a good workout in three sets in preparation.
Davydenko vs Cañas
The hardworking Russian is looking for another SF appearance, and I'm crossing all fingers that Canas be avoided by Federer. Hahaha. Four arduous sets.
Djokovic vs Andreev
I hope that Federer's only heir apparent does not retire in the QF like he did last year. Also, it's nice to see Andreev go deep in the draw, and he could probably take a set off Novak.
Moya vs Nadal
Come on, no way veteran Moya can outrun and outhit the defending champion.
Final
Watch history happen right here. 11th time lucky for Federer, as he finally completes his collection of trophies, and be the first man since a long long time ago to hold all Grand Slams at one time.