It feels like so long ago when I watched some Grand Slam action; moreover, I'm not reporting courtside this year (It's been that long!) But tradition still calls and here's the predictions for the first week and a half of what going on in Melbourne.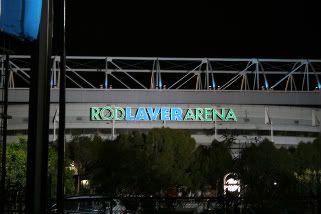 Men's Draw
Defending Champion: Novak Djokovic

Quarter I
Surely Nadal is the top star in this quarter, but may not necessarily be the top draw. Watch out as local favorite Hewitt start his campaign against fellow runner up Fernando Gonzalez; definitely people will be flocking in Rod Laver Arena, or camping out in Federation Square. It doesn't get any easier for him after that, as potential foes include Gasquet, Canas, and finally the top seed.
QF Match: Nadal vs Monfils
Quarter II
All eyes are on Murray even if he trails the ranking games, he's the one blazing through the ATP Tour these past 4 months. Plus, he's put on a less surly outlook that made the crowd appreciate him. It's a fairly easy draw for him, until the quarters. Saw Murray got trashed by eventual runner up in the opening day of AO 08, and hopefully the results will be different in the round of 8.
QF Match: Murray vs Tsonga
Quarter III
Djokovic and his complete clan came in N-O-L-E shirts, and it was indeed a fairytale story for them and their home country (I'm sure some part of those proceeds went to fund Serbia's first ATP tournament). Though his hard court season was been so-so, it looks like an easy four rounds for Novak who can face Roddick in the quarters. However, Roddick's set is a mish-mash of his contemporaries (Ferrero, Nalbandian, Robredo) and throw in his conqueror last year (Kohlschreiber), it's a fairly open draw.
QF Match: Roddick vs Djokovic
Quarter IV
It's really hard to imagine the finalists not come from the quadrumvirate (I propose to use tetrumvirate, but it may mislead more than highlight the number "4"), and also hard to imagine that Federer will not be a contender for it. It's time to meet Sampras' record Roger!
Do pay attetion to Marin Cilic as he may put up a good run here - he played well last year, and a QF appearance (following his win in Chennai) is just about due.
QF Match: Cilic vs Federer
----------------------------
Women's Singles
Defending Champion: Maria Sharapova

Melbourne lost a lot of star power this year with Sharapova's withdrawal. Sure, she's missed out a lot of tournaments due to that bum shoulder of hers, but it's a bit more pressure when you're the defending champion. She ascended to the championship in a fashion similar to her 06 Flushing Meadows win, let's see if someone will stamp their dominance from the opening rounds.
Quarter I
This could be the tournament that will save Jelena from all the doubts plaguing her "Slamless #1" curse. Her draw is the softest one in either men's and women's and even her QF might be easy. Anything less than last year's show might be considered as a letdown.
QF Match: Jelena vs Vera
Quarter II
Heavily stacked section of the draw, but no other contenders spring up apart from Dinara and Ana. Too bad they're slated to meet at the QF stage.
QF Match: Dinara vs Ana
Quarter III
I'll save a lot on space and replay what I predicted (hoped) for US Open 2008. Elena Dementieva. Save for a potential date with Venus Williams, she should get by this draw easily. However, 2 tournament wins will do make you a bit exhausted.
QF Match: Venus vs Elena

Quarter IV
Every other year, Serena roosts down under to pick up her Grand Slam. Not too far fetched from happening, as the sisters just stroll onto tennis majors and pick up a prize. Now that Serena is pumped, ready and on a roll, it's only a matter of time before she grabs the top ranking and reign once again as the best female player.
QF Match: Agnieszka vs Serena