It was my second trip out of the country, and this time, I'm travelling alone to meet a friend at our final destination. Just as a background, I've been planning this trip since May - saving up money, miles and courage to do a trip alone. So, 6 months later, twenty thousand miles poorer, but 2 guide books smarter, I find myself taking of my belt at the counter of the Centennial Airport. (No dirty thoughts please, just standard security procedure).
While waiting for the MLA-PVG (Love 'em airport codes), I met two ladies who screamed at a footage from the WTA Championships, featuring a news bit about Lindsay Davenport taking home the year-end Numero Uno for the fourth time. AHA! Tennis fans off to watch the men's version of that in *gasp* Shanghai. Then I learned that there was a Manila delegation, of about 40 people. At least our country is represented in the audience.
A thousand miles later up north, I find myself walking at the tarmac of Pudong International Airport. First time in China, and a first time winter for me. Before my illusions of snow and skates realised, I already knew that it didn't snow in Shanghai. Nevertheless, I never stopped muttering to myself, "This weather is just gorgeous". Crisp, cold, wintery, minus the slush.
Airport to hotel was a breeze. Okay, I stood in a very long line at Immigration, and given that the airport had all 26 counters open, you can just tell that Shanghai was a very touristy place. Hey, Tennis Masters Cup really drew in the crowd, at least. Again, airport to hotel, after immigration was a breeze. Gate, escalator, maglev ticket counter, maglev gate, I plopped myself to a seat on the only magnetic levitation train in the world. City center was a good hour away from the airport, and with the train, it took me 8 minutes. 430 kph baaaaby. Here's a pic to prove it.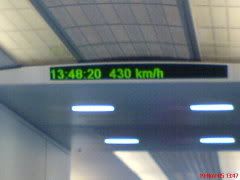 Maglev to subway was very easy, then next thing I knew, I was right smack in the middle of one of the most famous shopping districts this side of the world. Nanjing Road felt like Times Square, not that I've been there, but the blazing neon lights, people hustling left and right, and all the wares you can think of. Throw in a couple of 1920 architecture buildings, and a hotel with a giant thermometer proclaiming 17 degrees Celsius... *BAM* I knew that this trip was going to rock.