I woke up late on Easter Day, and peered outside our house. These yellow florets were, to borrow for e.e. cummings, carefully, everywhere, descending. After celebrating restless idling, it was a refreshing sight to see yellow rain.
Right then and there, I had two epiphanies. First, I love our home - ours is the green gate. And before I go all 7th Heaven on all of you (which I won't, you probably saw the marathon), it's a central area, near the necessary facilities, yet still tucked away from the bustle of it all. And to see kids play at our streets in the summer, while yellow blossoms dance around is indeed a bonus.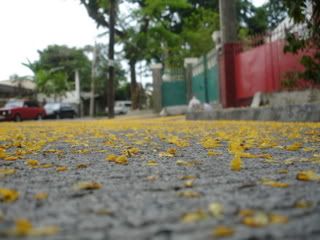 Second, I will buy a DSLR camera. I've been fiddling with the idea of getting one, with the pros (better images, unleashing the internal photographer in me), and cons (expensive, might not have enough time to tinker with it) - the image outside our house convinced me. I just realised that one of the most important thing I own would be my memories. To capture your memories would be to hold time in your hands - and for just for that second, everything is all and well.
*plays Yellow by Coldplay*