Amelie Vs Anastasia
Inasmuch as I'd like to see Anastasia win this one, Amelie's trademark power game, aided by a capacity to serve-and-volley no the lawns, there's no way I can bet against the World Number 1. Amelie in straight sets.
Elena vs Maria
I don't know if I've become picky or what, but Maria's game is all power and no brains. Bagay kayo ni Andy. Pennetta showed a dazzling display of ball-retrieving last night, and it was on sheer power that Maria won. Elena, now is more unpredictable than London Rain. I'll take a gamble here and hope that Elena see through Maria's weaknesses. The lower-seeded Russian will cause an upset, by varying the pace of the game. 3 long sets.
Justine vs Severine
Ooh, a new comer - but don't expect Justine to take this lightly. Straight sets.
Kim vs Na
Hooray, and a Chinese player has finally reached the quarters of a Slam. Honestly, I haven't seen Kim play, but I do hope she squeaks out of this one in straight sets.
Semifinals and Final
A replay of Melbourne will be on the way, but this time, Justine will be in full force. Hey, that's a career slam, just in case we're forgetting.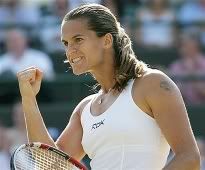 --------------------
Federer vs Ancic
Marquee match of the round, considering the history. One would think that this would be Federer's big test on his way to his 4th Wimbledon crown, but after Ancic flip-flopped last night, this should be a comprehensive win for the defending champion. Having tough opponents in the early round tested Federer's dedication to the game, and passed in flying colours. Straight sets.
Stepanek vs Bjorkman
Ah, a wildcard section of the draw. I'm favoring doubles specialist, and grass lover Bjorkman in 4, to make up for Johanssons's semifinal appearance last year.
Hewitt vs Baghdatis
Fightin' Lleyton needs to follow up a rather lackluster year, but with another win on grass. We're going to see how he stacks up against Oz Open finalist Marcos. Expect long rallies reaching deep in the 5th, and perhaps an upset. Still, rooting for the Aussie in 4.
Niemenen vs Nadal
Nadal has probably shown us that he can compete on grass, and made the transition look so effortless. That win over Agassi further strengthened his belief on grass, and should not stop him in a semifinal run. Straight sets.
Semifinals and Final
Grand Slam number 8 for Roger Federer, to be contested by Lleyton Hewitt. While Roger's road to the final was easy, Hewitt will recover his olden days of glory by ekeing out a win over Rafael Nadal.