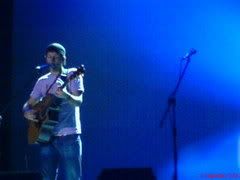 Okay, intermission
muna
. Lest I drown my blog with my longings to be a tennis commentator, I tried to do something else this weekend - watch a concert.
Long before the heat and excitement was roasting Melbourne due to the Australian Open, I reserved my seats for Jason Mraz Live in Manila. Row 5 - sweet! In the same way Martina Hingis' draw opened up for her, the schedule of that night aligned for me so I can enjoy the Mraz concert without worrying about my tennis matches and fantasy league. Perfect, perfect. One hitch, though. And I'm not telling. (Drat, I couldn't stop the tennis metaphors!)
Anyway (funny how these little thoughts of mine interrupt my train of thought, oops, here I go again with a random interjection), Jason Mraz was abolutely brilliant. I missed his first show here, no thanks to my provincial assignment, but I think I made up for it this time around. How do I put this to words, errm, Jason Mraz is where talent meets genius. I mean, he writes his very, very witty songs (ah, yes, wit), and his voice is just golden. I can't seem to recall any male person with voice as good as his. Is he classically trained? He can range to a crystal clear falsetto to a well-tuned scat and switch to and fro. Wow.
Admittedly, his studio recordings aren't as good as when they are performed live. Waiting For My Rocket To Come was not just in the same level as the Live At The Eagles Ballroom CD+DVD set. Saturday night didn't have a full band, but the crowd was not deprived a single bit of musical satisfaction. In fact, the acoustic set only enhanced the clarity of Mraz's voice.
Here is the complete playlist of what was performed that night. A miss with After An Afternoon, No Doubling Back and Sleep All Day, but a great addition with Rocket Man, snippets of Wonderwall and Our House, and the well-sung hook to Where Is The Love. He made Justin Timberlake sound like a bathroom singer.
set list:
-life is wonderful
-wordplay
-clockwatching
-you and i both
-mr. curiosity
-0% interest/our house/where is the love
-rocketman
-sleeping to dream with paolo santos
-1000 things with paolo santos
-curbside prophet
-no stopping us
-the remedy (i won't worry)/wonderwall
-geek in pink
encore: plane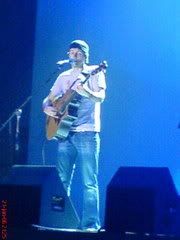 My favorites? 1000 things with or without Paolo. Paolo Santos did a great job jamming with Jason. So I'll leave it at that. The 0% Interest medley was great as as it was fun and amusing, and his cover of Elton John's Rocket Man was definitely better than anything Ive seen and heard (although they were mostly on American Idol). Tsk, No Doubling Back wasn't performed. It's been on my playlist forever. My regret? I really should've bought the Mr A-Z album first, learn the lyrics so I could've gone to the concert prepared. Damn, that is so wrong, a concert is not a test.
ps. I hope that Warner releases another Live Mraz album - the music is, in a scale of one to to a hundred, about a fifty, billion, that is.