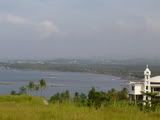 While the boat for Siargao island sailed away a couple of hours ago, I had to be content with the mainland of Surigao City. Again. (Read my old blog for that other story). However, this time, I made sure that things will be different. Fresh from watching a Surigao City travelogue the night before, I was convinced that I can make this business trip an adventure in itself.
Travel Asia featured the Sohoton Caves, with an underground passage that's only accessible during low tide; the floating village, with houses on stilts; the Sto Nino church with a hostoric past. And just like Siargao, I missed them all. Brilliant, there goes that plan. The closest thing I almost got to was the pebble beahces of Mabua. The feature showcased black granite pebbles of various sizes sacttered on a shore, then nearby, a tall cliff with moderately sparsed with trees getting battered by powerful waves. Instead of getting a vivid description of the place, I will narrate as to how I got lost trying to get there.
The show said 15 minutes away from the city proper. My trip took an hour, and ended up in another town. Anyway, asking a couple of locals on how to drive to the beach sounded easy. You make a left at this junction with a waiting shed, then BAM you're there. I ended up to the port that will take me to the Visayas region. Not a total loss though, I ended up in Lipata Hills, on the western side of Surigao City with an amazing view of the city. Made the most of the situation, and I took this picture. An unfinished church overlooking the Gateway City of Mindanao, with a spectacular mansion right beside it.
So that afternoon wasn't so bad as I thought. Great view, with lush mountain sides and rugged cliffs on a wide shore. Tomorrow perhaps?
----------------------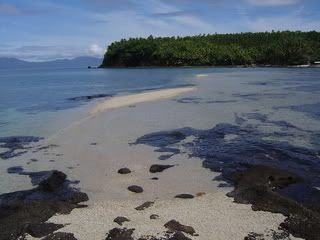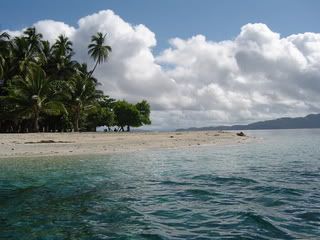 I woke up early the following morning with a strong resolve to haul my butt for some boating. Was it just me, or did 7 am look like 10, since the sun was way high up? Nevertheless, I proceeded by trike, locally called trisikads, and proceeded to a gasoline station under a bridge. My job is basically to ensure the integrity of gasoline station equipments, and of these sites included a gasoline station under a brdige. Pretty odd eh? This filling point naturally catered to boats going under the bridge, and therefore had the best idea of how to hire a boat. With my trusty camera and a plastic bag to protect an extra shirt and my wallet, my companion and I boarded the boat and headed off to the nearest island.
Upon arrival at the island, one thing came to my mind: Lost. So okay, maybe Survivor. An uninhabited island with coconut treest linig its shoreline, it seemed to be the perfect paradise. The water was clear and quite cold, but I took a bath anyway. There was a sign, saying that it was a privately owned island, and we had to pay 25 bucks for entry. I didn't see a gate, so screw that. Nobody's collecting anyway. After a couple of minutes, I re-boarded the boat and proceeded to the next island.
It's funny, since Island #2 seemed pretty close to the shore, but that was another mistake for the books. It was a good half hour from the first island, bringing the total travel time to an hour. This destination wasn't exactly an island - it was a portruding rock that had no plants, just washed up white corals. The effect of it was fantastic: nothing but white white white dried corals on a big black rock that was as slippery as a greased pig. Just check out the picture!
What we didn't know, we were already swimming at the borders of Leyte. That's Region 8, I was at Region 13. So, I guess, I have officially landed, hmm, bad word - BEEN to all regions of the Visayas and Mindanao. Just a couple more regions to go, then complete my checklist (looking forward to Region II and V).
I still haven't landed on the famed Siargao island, but this episode was well worth it. September perhaps?