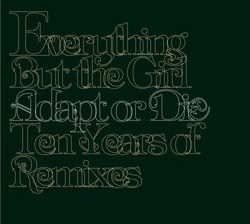 *couldn't get enough of the album; and couldn't get my hands on the last 2 studio albums of EBTG (Temperamental and Walking Wounded), so here I go with an ode to Everything but the Girl)
-------------
Mental note to self: write an album review when you first hear the album. however, like this one im just reviewing, it's simply so addicting. Blogging can wait.
Crossover may not be the appropriate term for Everything but the Girl, but they did just that. From the soft jazzy sounds sounds of Idlewild to the club beats of Corcovado, EBTG transformed itself from hotel lounge to club lounge. And all I can say is thank you Todd Terry.
Adapt or Die is a compendium that totally drops the subtleness of their previous records to a melange of pulsating rhythms. The songs mostly come from Walking Wounded and Temperamental, their only recent albums with totally new material. Great new mixes of Corcovado (and this time, it better captures the Brazilian party mood), a bigger and meaner version of Missing and a cooled down version of Five Fathoms. Even DJ Jazzy Jeff and Kenny Dope lend a hand to transform some of EBTG's songs.
For any true believer that Ben and Tracy did the right thing by doing House, this album is for you.