It's not what you think it is,but that really sounds interesting, doesn't it? But the roadtrip to Aranyaprathet, wasn't as amusing as you'd think it is. Let's see.
Let's start with "I'm a planner". Everything that I needed, I placed in a hardcover orange notebook. Hardcover, because I anticipated writing immigration cards, journal entries and incurred costs without the need for a table. It had photocopies of all my plane reservations, hostel accommodations, locality maps and preferred guesthouses. This little wonder was my best friend during the trip.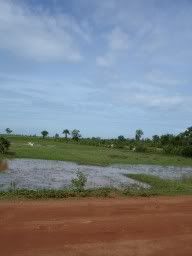 So, my trip to Bangkok from Siam Reap was very nice. The roads were non-existent, dusty, I felt that the the cramped minivan we rode in on was like a giant 8-ball being shaken by a kid waiting for a "Yes!", when all of us were shouting a thunderous "NO!!!!" everytime we landed on a pothole. Now you're asking, where is the nice in that?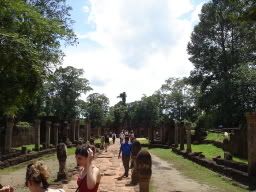 Well, the day before, I was eyeing some very beautiful tourists at Bantay Srei. Bantay Srei is one of the out-of-the-way ruins from the temple and took about an hour to get to. The ruins maybe small, but what they lack in size, they make up in the beauty of its details. Anyway, there were four beautiful women roaming around the grounds, and from their accent, figured they were French.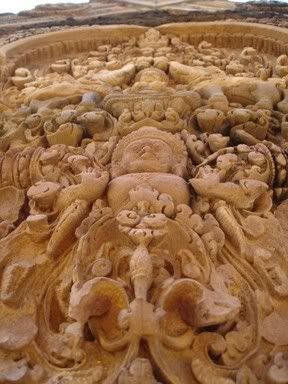 There were four of them, the twins, with dark hair, Miss Nose Ring, and Miss Blonde. Miss Blonde was the prettiest of them all, pity that I wasn't able to a picture of her. Anyway, they sat beside me in the minivan - and changed seats everytime we had a stopover. In short, I got to sit beside all of them - hooray! I also had the chance of offering Miss France Blonde a wafer stick: "We alzo haf zees on Frawns" she says.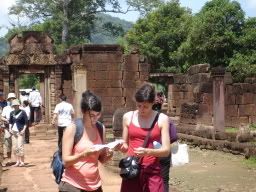 The only sustenance I had for that day was that pack of wafer sticks and a bottle of water. Since the ladies were busy playing musical chairs to get to sit beside me (haha), and I was furiously anticipating the results, I shoved the water bottle in my bag placed on my lap. Next thing I know, my pants were wet. Now, imagine me trying to dry myself beside those ladies. Not too embarrassing, because I don't think they noticed, but orange-notebook-that-holds-everything felt the deluge inside my bag . My journal entries that were barely legible scribbles were reduced to unreadable smears, and Lonely Planet Bangkok was soaking like Thailand during monsoon season.
Other than that, I followed the English couple that started the day wearing white shirts that now had the color of Cambodian clay stamped on their clothes,face and hair, to D and D Inn along the Khao San, backpacker ground zero for Southeast Asia.