I wish I had known that there was a direct flight from SIN to REP, otherwise, I wouldn't have ventured to KL to stay the night in. No regrets though, chalk this up to experience - besides, the panorama crossing Johor Bahru to KL was worth it.
So I said goodbye to my genial host, walked the perimeters of Ban San Terminal, picked up my ticket, and prepared to board. I met an English Couple, Rob and Natalie, who seem to be following the Coldplay World Tour, without ever catching them. While waiting for the bus to leave, Rob, Natalie and I picked up some food for th 6-hour bus ride. I got myself some dried mangoes and bottled water, while Rob got some cashews, and Natalie some dried apricots, which she decidedly called 'earlobes'.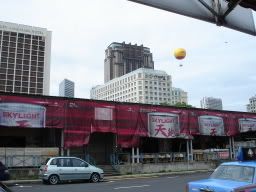 The earlobes were all right, but the dried mangoes were terrible - they tasted as sweet as the Subway plastic that wrapped my lunch this morning, with the texture of styrofoam that wrapped my congee snack 2 days ago. I sure hope that Natalie wasn't being polite when she said that she loved them. Rob on the other hand almost choked on his handful of cashew when I told them they weren't cooked. There goes my quota for spreading food terror on my first bus ride.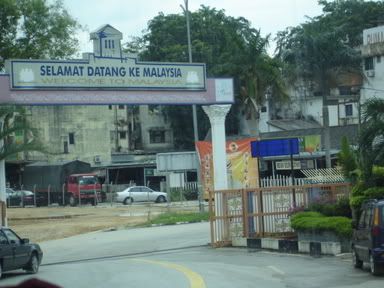 Fast forward to dinner, met up with Eu and Kat, who treated me to posh Bangsar, just off the KL city grid. Loved the banana leaf dinner, but not the papadums, sorry! After dinner was a bunch of drinks down the Bukit Bintang area, where we stood witness to some sort of robbery/break-in at a local pawnshop of sorts. My, their police works pretty fast out there, more fanfare though, but looks like they do a thorough investigation, so it was a bit worth it.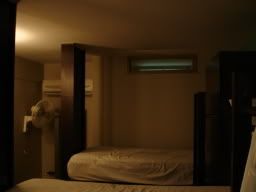 I had really wanted to get some sleep in before my early flight the following morning, but two British people were chatting loudly in our dorm room - one of them wasn't even from our room! Let's call them Judi Dench the dorm-room-trespasser, who was busy talking with Monkey Boy. Their story was a bit a warning for travellers - Monkey Boy here was slipped some sort of date-rape drug while touring the Batu Caves. All he remembers was that he was fumbling at the police station, then lying back in the dorm room. Insert Judi Dench horrified face here.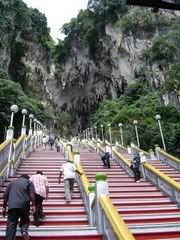 Been to the caves last year, and all I can say is that 'Dem monkeys did it!'. Seriously, if those monkeys can pull down skirts, snatch your water bottles, and pose for cameras, they sure can slip drugs into your drink. Really.