Hewitt, Ferrero, Federer, Haas and Roddick in the quarters? Suddenly, it feels like 2003.
Just when we're all ready to hail the new kids Monfils, Tsonga, and much newer players Tomic, Cilic and Gulbis, my generation of players stepped on the brakes to say that they're not quite finished. The first week of Wimbledon has definitely been interesting: Andymonium, the debut of the retractable roof, Federer's military jacket (fancy) and waistcoat (ridiculous), the resurrection of Hewitt, the merit of Ferrero's wildcard, and the news that there is no news about Djokovic.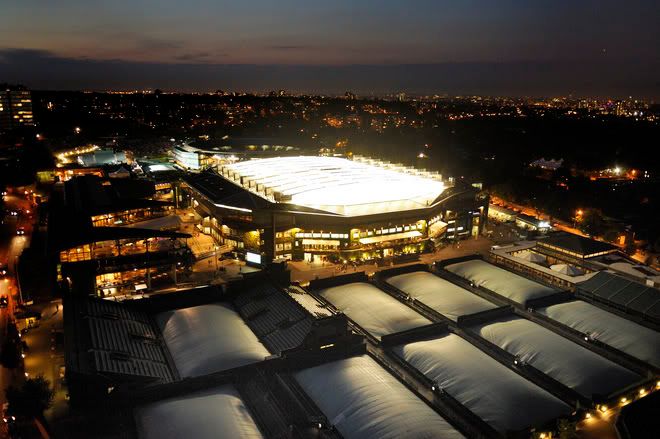 Hewitt vs Roddick
Yowzah, flashback to the early 2000s! Hewitt has summoned back his speed, the sting of the simplicity of his strokes, and found himself back into the quarters of a slam after three years. However, Roddick will see that solid ball striking, and raise Hewitt an improved backhand, faster movement on the court, possible dropshots, and a crisper volley. Roddick version 2009 in 4 sets.
Ferrero vs Murray
Murray expected a match against a Spaniard in SW19, but not against Ferrero in the quarters. It's been a great run for JCF, stringing deep runs in grass. Alas, he goes against the tournament favorite, and a loss of the hometown hero will not be treated fondly by the campers at Murray Mound. Save for his erratic scrape by Wawrinka, a dominating performance by Murray should come alive again on Centre Court. Straight sets still.
Djokovic vs Haas
Rematch of the Halle final. Though I feel that the Serb should've won that won, it's a perfect time to serve revenge here in London. Djokovic in an efficient 3 sets.
Karlovic vs Federer
It's a surprise that Karlovic hasn't maximised his booming serve, especially on a court that favors him. However, he's playing Federer, who can read service motions like no other (Roddick's power serve doesn't really help their H2H record). A comprehensive win, I predict, with impressive variety of volleys, passing shots and slices. Four sets to the Swiss. And please, I don't want to see that spanking robot dance anymore.
Semis and Final
Three of the top 4 seeds will make the grade, with Roddick crashing that party. Andy vs Andy should result in a thriller, and so will Novak vs Roger. It's another delightful men's semis this Friday, but I'll put my money on Murray vs Federer. I must say that I was definitely impressed by Murray's Wimbly performance, but he got wounded by the Swiss #2, what more from the Swiss #1? Still, history is ripe, and Murray has definitely shown his laurels (and not just Fred Perry's) that he is a worthy successor. It will be a monumental fortnight, a new roof, and a new champion, a new #1, and a bright future for British tennis. Ten thousand pound tickets for Centre Court will be on offer this Sunday.