Women's Quarterfinals
Defending Champion: Justine Henin
With former champion Serena Williams and sister Venus leaving the tournament early, and title holder and top-ranked Justine Henin surprisingly bidding the game adieu, the women's field is ready to crown a new winner on the terre battue. The game is wide open, and with minimal shockers in the first week, we're all in for a treat once the tournament reaches the final eight.
QF Match: Dinara vs Elena
Back to back all-Russian encounters ate up my evening last night. It was a truly delightful match, though I was expecting to see Maria and Vera here instead. However, I was cheeering for these two; Dinara's steady performance against the top seed was definitely a showcase of maturity - she was never ahead of Sharapova, and was ready to be swept away in straight sets. Still, that patient shot making and clever shot selection of hers pulled through. Dementieva on the other hand, has steadily worked her way into the second week. I'm likely to choose Little Sis on this account, her Tier I win in Berlin included scrapes against Justine, Serena, and yes, even Dementieva in the final. Another entertaining three sets here.
QF Match: Svetlana va Kaia
Since both matches aren't finished yet as of press time, let's keep this short - I just might jinx both of them. I'm looking for Kuzzie to reach the final 2, but another compatriot needs to be taken out before that happens. We'll see.
QF Match: Carla va Jelena
The only seed that Jelena has met was Polish teenager Aggie R, and that turned out to be a rather impressive affair for her. And with all the chips falling her way (facing an unseeded opponent), except for one - injury. Still, it's expected that she wins this match, in straight sets, but not enough to go beyond the semis.
QF Match: Patty vs Ana
Claycourt veteran and lefty Patty might give last year's runner up some trouble, but the blooming Ivanovic has the side of youth and fitness on her side. She may not have the stellar warn-up tournaments results, but her double bagel trumping prior to this round looks very ominous. Straight sets for the ravaging beauty Ivanovic.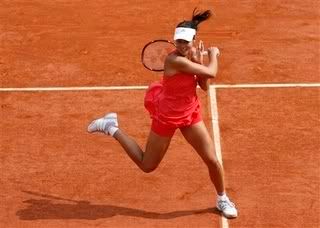 --------------------------------------
Men's Quarterfinals
Defending Champion: Rafael Nadal
"Oh no!" you say, not another Rafa-frustrating-Federer final! This year, there's a twist, an emerging Djokovic is ready to spoil these plans, and the quartefinal lineup is interesting enough to keep us all glued to our TV sets all week.
QF Match: Federer vs Gonzalez
Not seeing any surprises - it's Federer to show up on the last day of the tournament. Hopefully, he won't be a bridesmaid this time to Nadal's 4th crown.
QF Match: Monfils vs Ferrer
About time that the former French junior #1 perform well in slams - at his home tournament at that. I must admit that I wasn't able to follow his matches, so I can't make a good call on his battle with David Ferrer. I'm going to pick Ferrer, just because he eliminated the possibility of seeing worm-dancing on courts.
QF Match: Gulbis vs Djokovic
If I was to choose an unseeded player, I would've chosen the Latvian in the Fantasy League. In his US Open debut, he made it all the way to the 4th round, and in his 2nd RG, a QF appearance (darn, he crashed out early in Melbourne, would've had a chance to see him in person). Folks, look at a player of the future, just hoping he doesn't turn out to be a total nutcase like my last pick, Andy Murray.
Sorry, back to the game. Though Novak does have a steadier game, and hordes of experience, I wouldn't count Gulbis out - the Latvian plays a patient, composed and well-measure type of tennis, not typical of someone who is just in his 5th Grand Slam event. Him winning might be a long shot, but not impossible. I'm going on a whim here and say he's going to pull through in 4.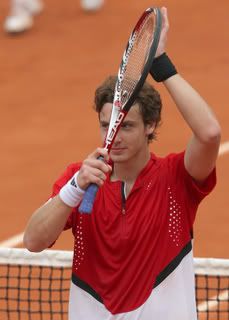 QF Match: Almagro vs Nadal
This matchup took forever, but here it is. The King of Clay meets the King of Smaller Claycourt Tournaments. Almagro has been long picked to breakthrough in the big stage, but always comes up short. Here he is to prove his mettle against the game's true heavyweight. Alas, this will be short-lived, 3-time winner has yet to lose a match here and most likely won't lose this one. Straight sets.