So, where was I? Before getting interrupted by Aussie Open and holiday season, I was talking about how awesome London was. On top of the freebie museums, I happened to be there on Halloween, where people took it seriously. Plenty of Joker (Heath Ledger version 2008) and zombie wannabes, so I joined in the fun with some fake blood.
On top of celebrating Halloween, we did it Pub Crawl Style! No better way to enjoy 31 Oct than this; wait, we were the 2nd most fun activity that night in all of London, next to Halloween Costume Pub Crawl in Roller Blades, which I saw on the way to the pub.
So, nothing wrong with runner-up, but before I sound like one of those paid up PR schmaltz on the newspapers, I'll just post some photos instead.
Deric! Too bad the photos died on your camera, mine sucks!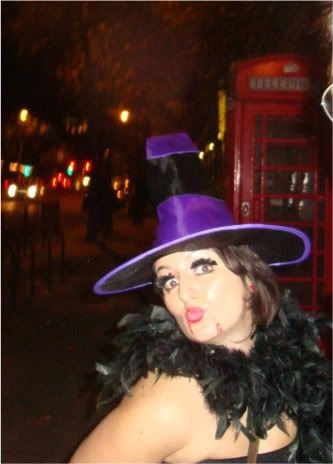 She asked me what I thought her costume was. I said Liza Minelli. Look at my photo above, that's not fake blood; her costume was supposed to be a barfly.
There's the leader of the band all dressed up in his monkey costume, right beside Mr. Vorhees.