Finally, I got some time to sneak out and write in my blog. Everyone at home and at work was asking, and perhaps you my dear readers, all two of you, how my trip went. In a word, it was SUPER.
So I land in Sydney - it was the longest flight I've ever taken, and halfway through the 8-hour flight, I went claustrophobic. My seatmate was probably drowsy from all-night partying prior to the flight, so he slept like a baby; I on the other hand, was suffering from boredom, and disbelief that they'd be showing a B-Movie in a long-haul flight. So, the best way is to chat up the flight attendants (definitely out of my age group, so stop snickering), and mooch for a free drink. Unfortunately, that wasn't enough, so I just tried to sit still in my seat like a kindergarten student on detention.
Then the Sydney skyline came along. No pictures, drat, but you'd have to marvel on how they developed a portwith a craggy coastline and numerous bays, into a dazzling metropolis. The lights were all aglow, and that sight was surely worth the 8-hour trip.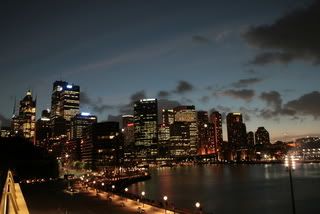 That's it for now. We'll talk about walking around Sydney next time.
ps. I sneak away for a week and all I manage to come up with is a shabby excuse for a blog entry. Worry not, I'll be back with a more respectable outing.